Young Thug Reveals Why He Thinks Lil Wayne Doesn't Like Him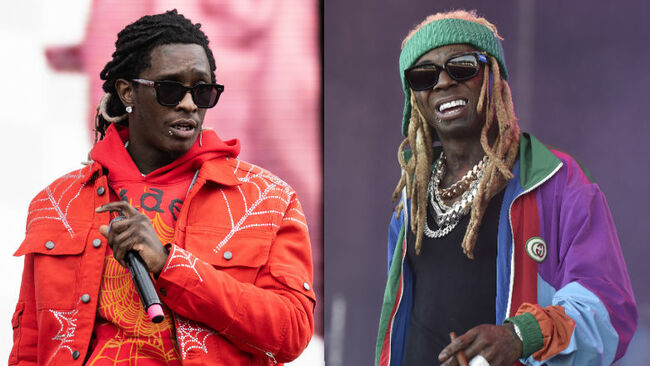 Young Thug's long-awaited debut album, So Much Fun, features guest appearances from Future, J. Cole, Travis Scott and more, so it's clear that the hip-hop community approves of the rapper. However, during a rare promotional stop with Big Boy's Neighborhood of REAL 92.3 LA, Thug spoke about one hip-hop titan who he suspects doesn't like him much: Lil Wayne.
"I don't know, I don't think that n***a like me," the Slime God said when asked about his relationship with Weezy. "I don't know why, though. I think it's because he just been with Birdman his whole life and he's just so spoiled to the point where it's like. . .He's been a superstar since he was nine years old, so he don't know nothing but his way."
Thug went on to admit that Wayne might have reached a point where it's difficult to embrace him. "Pretty sure he done stopped back and looked at any interviews I ever did and he probably got the picture now," he continued. "Like, 'Okay, I maybe did too much.' Maybe he feel like, 'I done too much against this young n***a to the point where I can't even embrace him.'"
As you already know, Thug and Wayne have a long and complicated relationship, despite Thug referring to Weezy as one of his biggest musical influences. The pair collaborated in 2014, but things took a turn for the worse when Thug announced that his debut mixtape would be titled Carter 6, an obvious nod to Wayne's Carter collection. Legal action took place and Thug ended up titling his release, Barter 6. There's also the incident where multiple gunshots were fired at Wayne's tour bus by an associate of Young Thug.